Cool breezes and red dragonflies mark the summer on Mt. Gozaisho!
The average daytime temperature in the summer on Mt. Gozaisho is 20°C (68°F) to 21°C (69.8°F), which is as much as 10°C cooler than on the lower plains.
Refresh amid nature with a visit to a cool Mt. Gozaisho.
Take part in the red dragonfly marking survey that is only carried out during the summer vacation.

What to See in Summer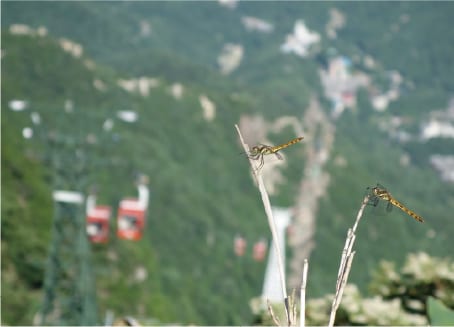 To escape the heat, red dragonflies come in search of cool breezes on Mt. Gozaisho.
When summer arrives, red dragonflies arrive too.
In June, nymphs grow into dragonflies in the rice fields, etc. located at the base of the mountain and then fly to higher mountains in pursuit of cooler climes.
Learn More about Red Dragonflies
(Gozaisho Nature School | Japanese)
In 1969, ecological observations of dragonflies were launched as a nature observation project of animals and plants, which revealed that autumn darters made up 95 percent of all the red dragonflies found on Mt. Gozaisho. In addition, other species of dragonflies including sympetrum infuscatum, golden-ringed dragonflies, sympetrum pedemontanum elatum and siberian hawkers which emerge from nymphs at the summit were also found.
At that time, one question was posed. "Autumn darters fly down to the base of the mountain when fall arrives, but where do they go?" Then in 1971, a large-scale marking survey of red dragonflies named the "Grand Project to Find Dragonflies' Hometown!" was carried out and has happened every year since.
In summer, many red dragonflies fly in swarms to the cool summit of Mt. Gozaisho. These red dragonflies are called autumn darters, whose body is soft and weak with orange and black stripes. In June, before coming to the mountain top, they emerge from nymphs in rice fields at the base of the mountain, and then feed while perching on a twig for a week or so to gain stamina. When they gain enough energy to set off on their journey, they fly high up in the mountain.
Then, when the temperature goes up, red dragonflies begin to migrate in swarms, using the updraft to move up the mountain. From late June, they are found at the summit of Mt. Gozaisho. They grow by eating small insects and their body gradually becomes harder, stronger and redder with time.
After mid-August when the temperature begins to fall in the early morning and evening, red dragonflies also begin to fly down heading to the base. In September they arrive at the base, and then on a sunny day or after the rain in fall, they lay eggs by tapping the surface of the water with the tip of their body while flying over the rice fields, etc. Those eggs lie dormant over winter and hatch into nymphs the following spring, before the nymphs turn into dragonflies in summer.
However, the harvesting time of rice has been changing and the number of red dragonflies has been decreasing as a result.